13.So as not to become twice as much trouble, it draws a Bezier curve levelly and vertically.

When drawing beforehand while pushing [Shift] key when drawing the control handle of the Bezier curve, the correction becomes easy.

Only the side of the control handle can be adjusted to doing vertical water plain and 45 degrees of diagonal with the Shift key in the control handle of the Bezier curve when stretching in Adobe Illustrator and Photoshop.
Only when making the value of the limitation on the angle 0 degrees at the item of the environment setting by Adobe Illustrator, it becomes vertical and level when using Shift key.When it is another value, the value is added to the angle.
It attempts to trace out the one to have tilted an oval as the example in Adobe Illustrator.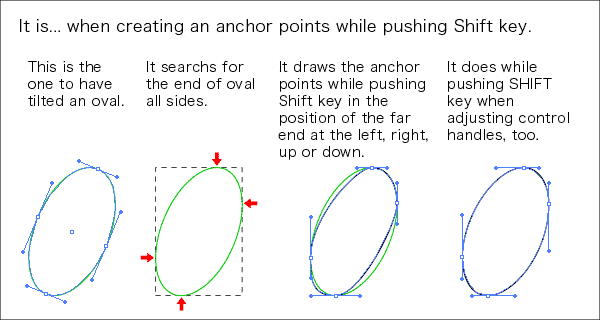 The valuable thing is to search for the far end in the diagram and to picture an anchor points there.
There are two advantages in this.
1. To move the other part by mistake in adjustment passes away.
2. The position of the anchor points is easy to decide.
When correcting the control handle which was made diagonal in Adobe Illustrator, can you maintain the angle of the control handle of the present situation without changing it?
When not working carefully, to do the failure which has changed the angle with the control handle in opposite tends.
This is because there is not a function to fix the angle of the control handle.In case of Adobe Illustrator, because the angle can be vertically and levelly fixed with the Shift key, it has adjusted the angle of the control handle to that oppositely.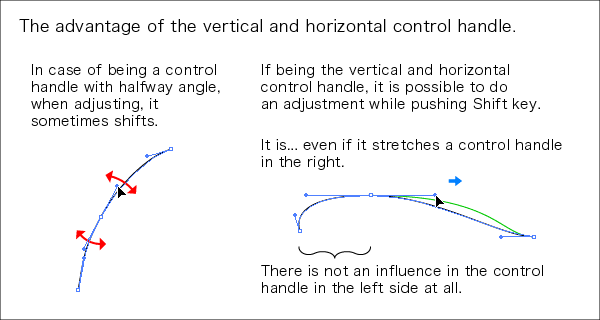 It influences a control handle in opposite and not having been held even if this operates a control handle casually.
Next, it is the position of the anchor points but it has worried about from where it will begin to draw a declining oval, and so on, as mentioned above.Then, the anchor points which was pictured in the hit which has no mark will become the wainscot which moves when adjusting.
However, the far end is far end whoever sees.A position is easily decided.
On probation, let's attempt to trace out a diagram only in the position of the far end and the breaking corner.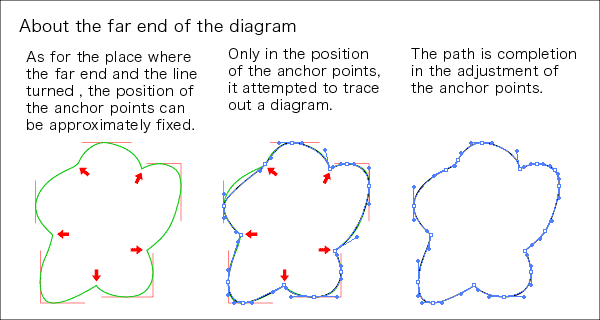 Try because the form warps and the anchor points sometimes increases more than necessary, too, but it is possible to be correctly with being unexpected NULL being fast traced out by it when thinking of the 2 corner advantage.
Of course, it is vertical and it makes a control handle level by all means and haven't been held.The correction becomes difficult oppositely in case of being particular vertically and levelly too much and anchor points number's increasing more than necessary.