7.The ONE'S turn of the Shift key.( Way of drawing a Bezier curve )

To picture a Bezier curve in the vertical level or 45 degrees of slants in Adobe Illustrator, the [Shift] key is necessary.

When drawing a Bezier curve, the convenient key is Shift key.The position of the anchor points is fixed on the position of 0, 45, 90 degrees to the anchor points ( the anchor points which was enclosed in Akamaru of the figure in the left side ) one ahead when clicking or dragging while pushing Shift key while creating a path in Adobe Illustrator.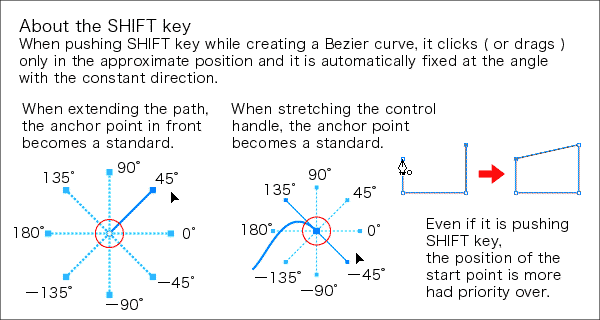 Because the limitation on the angle which is in the environment setting by Adobe Illustrator becomes a standard, when fixed at the unexpected angle, this confirm the value of the environment setting.
When dragging while pushing [Shift] key when taking out a control handle, the direction of the control handle is fixed on the direction of 0, 45, 90 degrees to the anchor points ( which was enclosed in Akamaru of the figure in Central ).( The limitation on the angle of the environment setting becomes a standard about this, too ).
However, because the power which tries to become a closed path works strongly when clicking a start point in the path even if it is pushing Shift key, Shift key is ignored ( The right figure reference ).Therefore, it has become the path to be vertical and not to be horizontal to have pressed Shift when not careful.
If wanting to make the segment which was made diagonal vertical ( level ), choose two anchor points in the both edges in the segment and arrange for them by [ path / average... ] (Adobe Illustrator) of the object menu.