4.The supplement about the control handles of the Bezier curve.

As the reference to make a beautiful path using the Bezier curve, the circle which was created by the elliptical tool of Adobe Illustrator and the wavy line which was drawn with the Pen tool are described.

The representative of the beautiful Bezier curve is circle.Let's attempt to see the aspect ratio percentage of the circularly contained control handle which was created in Adobe Illustrator.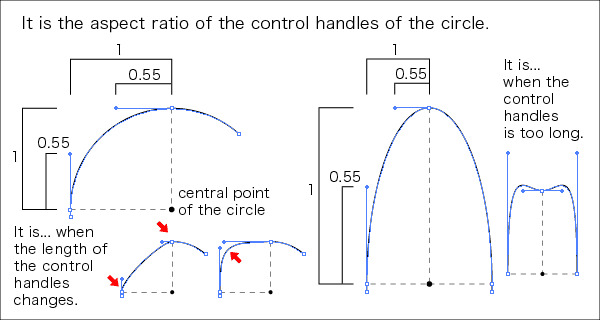 The left side is the part of a circle.It becomes the rate which is approximately half which is the radius that the length of the control handle is the circle ( The length and the transversal ratio were to do 1:0.55 being ).The ratio was the same in the oval in the right.It computed value for the reference, but it keeps and it memorizes ratio and not having been held .If the ratio which is the same as a circle is necessary, it should use an Oval tool.When the aspect ratio of the curve is different like the oval in the right, when stretching a control handle in the long direction long, it becomes the form that the curve is beautiful.
When the control handle is short, it is near the anchor points and when the control handle is long, it finds to have done bend of the center in the segment in the steepness nearby of the path.When the control handle is too long, it has affected the control handle which goes out of the following anchor points which opposite has it.
When stretching a control handle long and making a form, when adding one anchor points already to the central vicinity which the curve turns to suddenly beforehand, it becomes easy to control the form of the Bezier curve.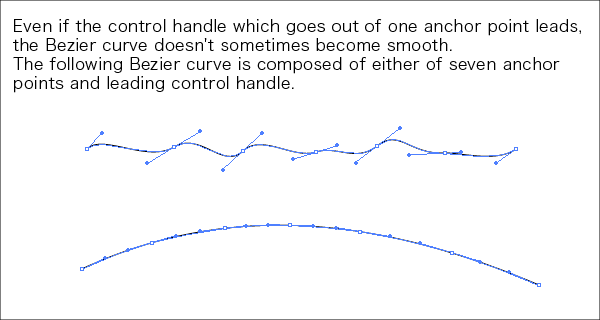 Generally, if the angle of two control handles which go out of the 1 corner anchor points is 180 degrees, the path becomes a smooth curve.However, not to be dividing a control handle, the path sometimes can not be smoothly seen.
When there is not a control handle in opposite in the destination to have extended a control handle, the curve is twisted just like like the wave and can be seen ( The figure above ).When arranging for the control handle according to the path, even if the anchor points are many, it becomes a beautiful curve ( The following figure ).
However, when correcting later in the path, it will be impossible to keep a beautiful curve.To draw once more with the points which is less than taking time and adjusting all control handle slightly more undoubtedly ends early.If being in case of Adobe Illustrator, it draws a new path to once make the path which becomes original a guideline and to trace out the guideline.
To make a Bezier curve with as much as possible few point sizes in this way is more beautiful and the correction, too, is easy.